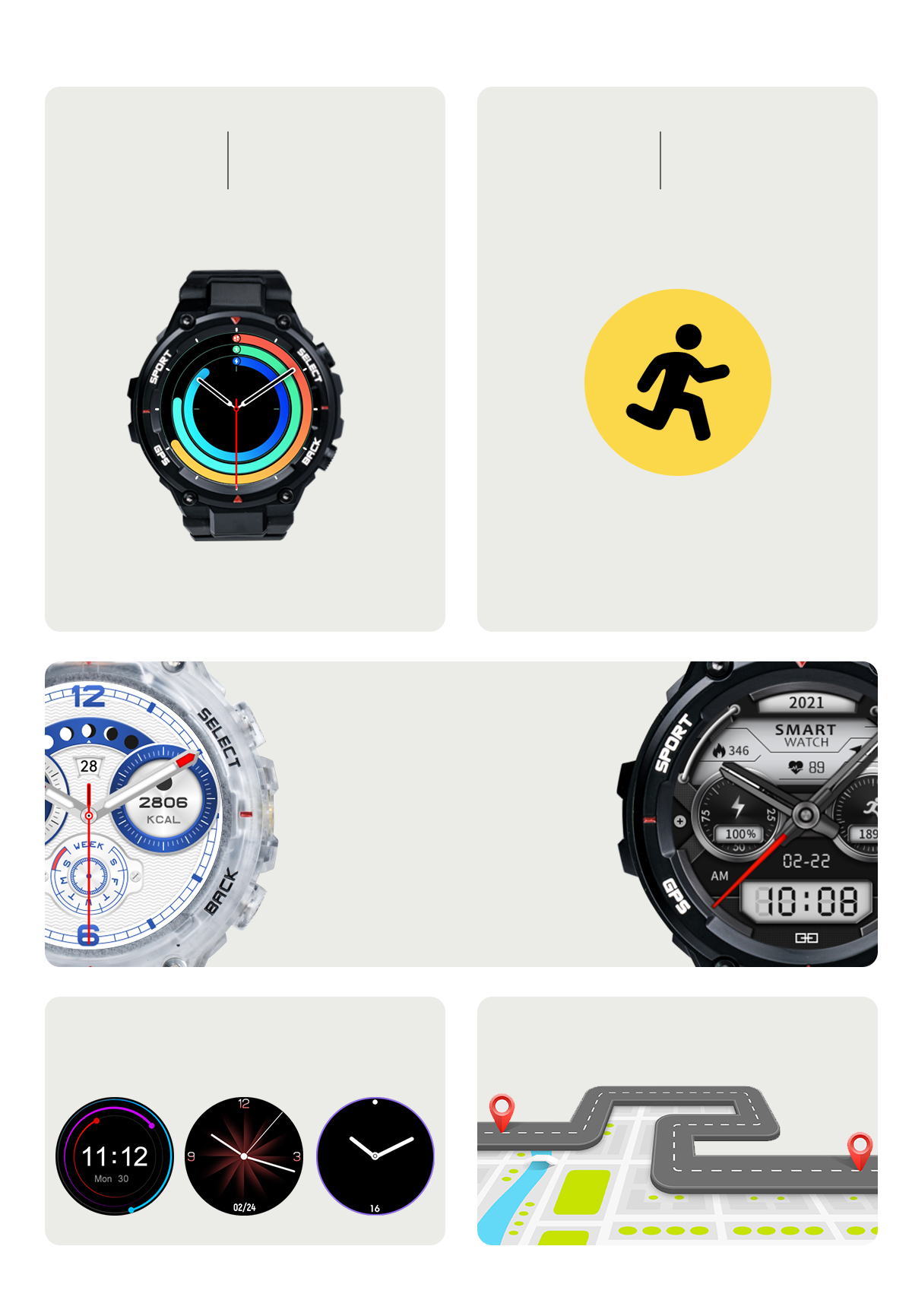 With a HD touch screen and meticulously crafted casing, there is a seamless transition that brings a better sense of design and a wider field of view.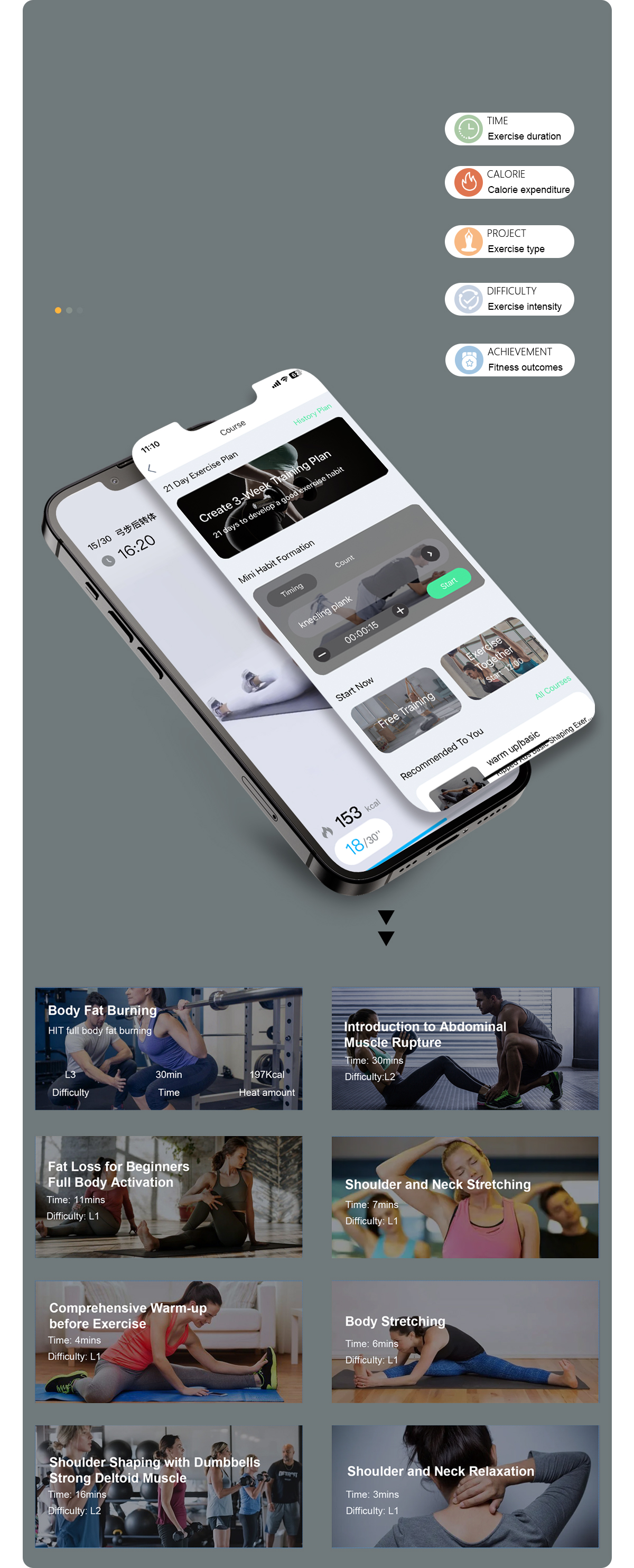 Through the newly upgraded training curriculum, users can enhance
efficiency and achieve more effective workouts.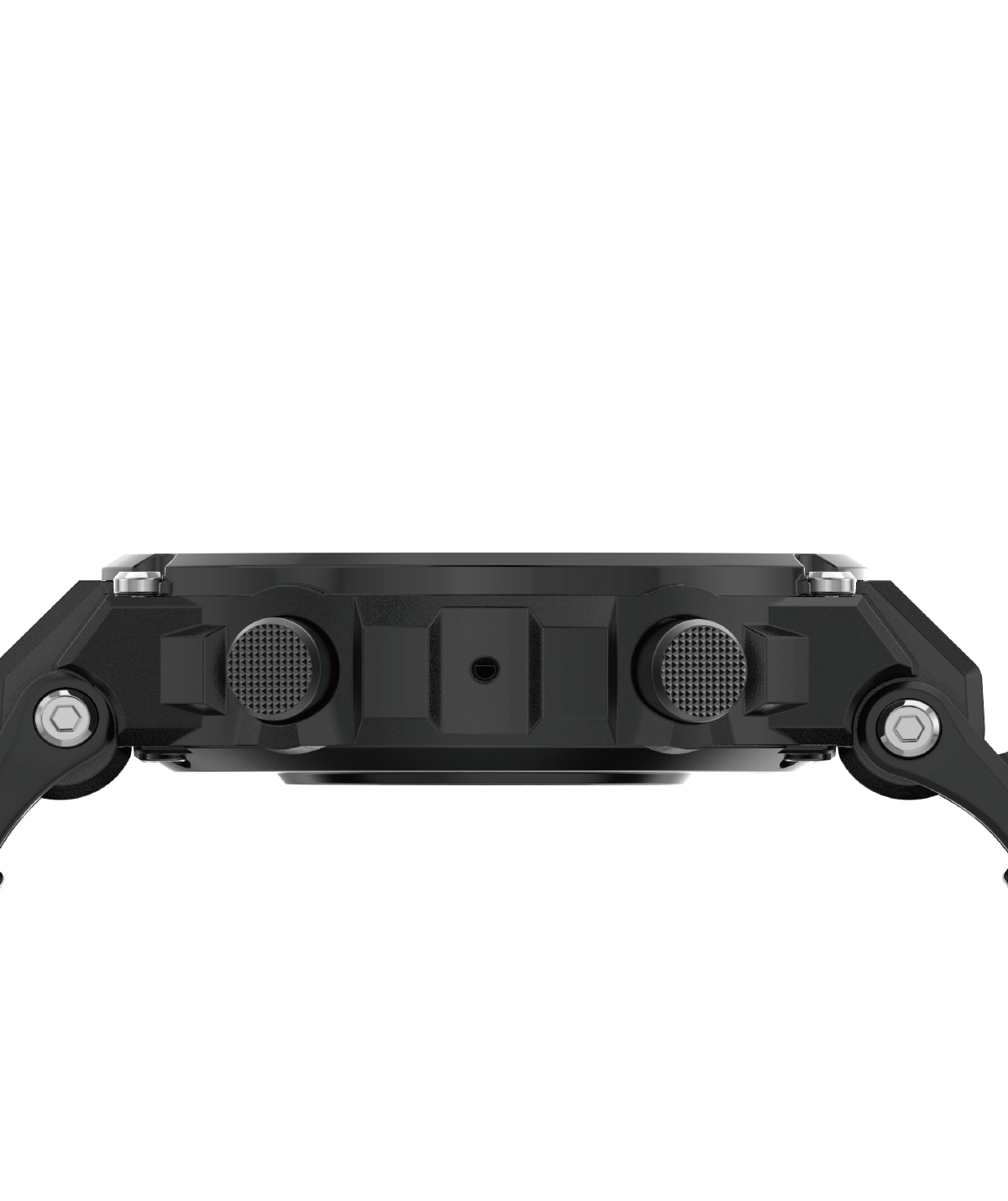 A full screen perch on the vertical edge of the case.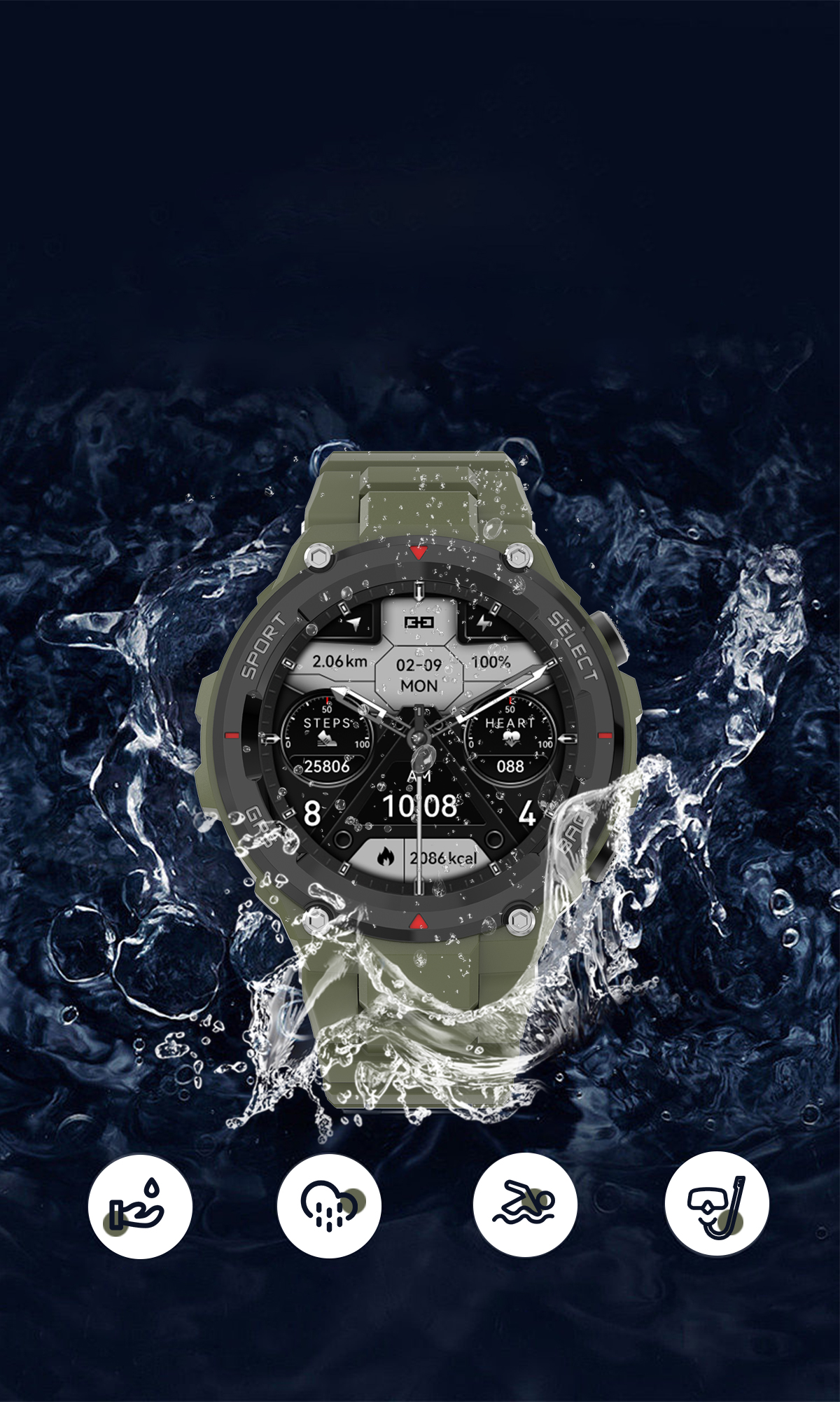 IP68 GREAT WATERPROOF
DT5 Sport is designed for challenges, boasting robust quality and excellent waterproof performance achieved through a one-case compression process. Friendly reminder: Any level of waterproof watch is not resistant to steam and hot water.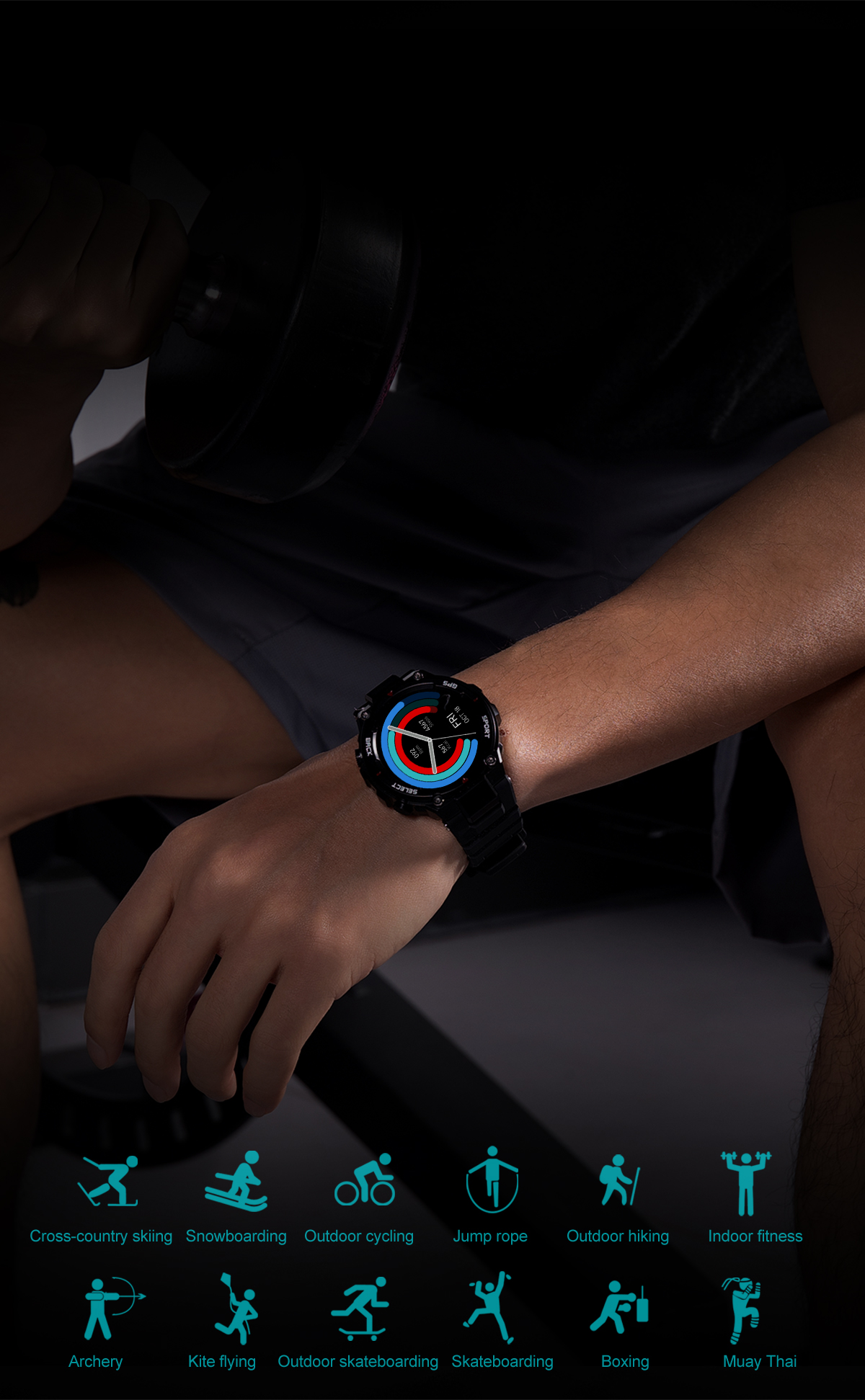 150+ sports modes in your hand
No matter what sport you like, there are physical training programs that are suitable for you.Go for running, basketball, football, riding, or other sports you are interested in. Enjoy every moment of exercises, which will be recorded by the watch.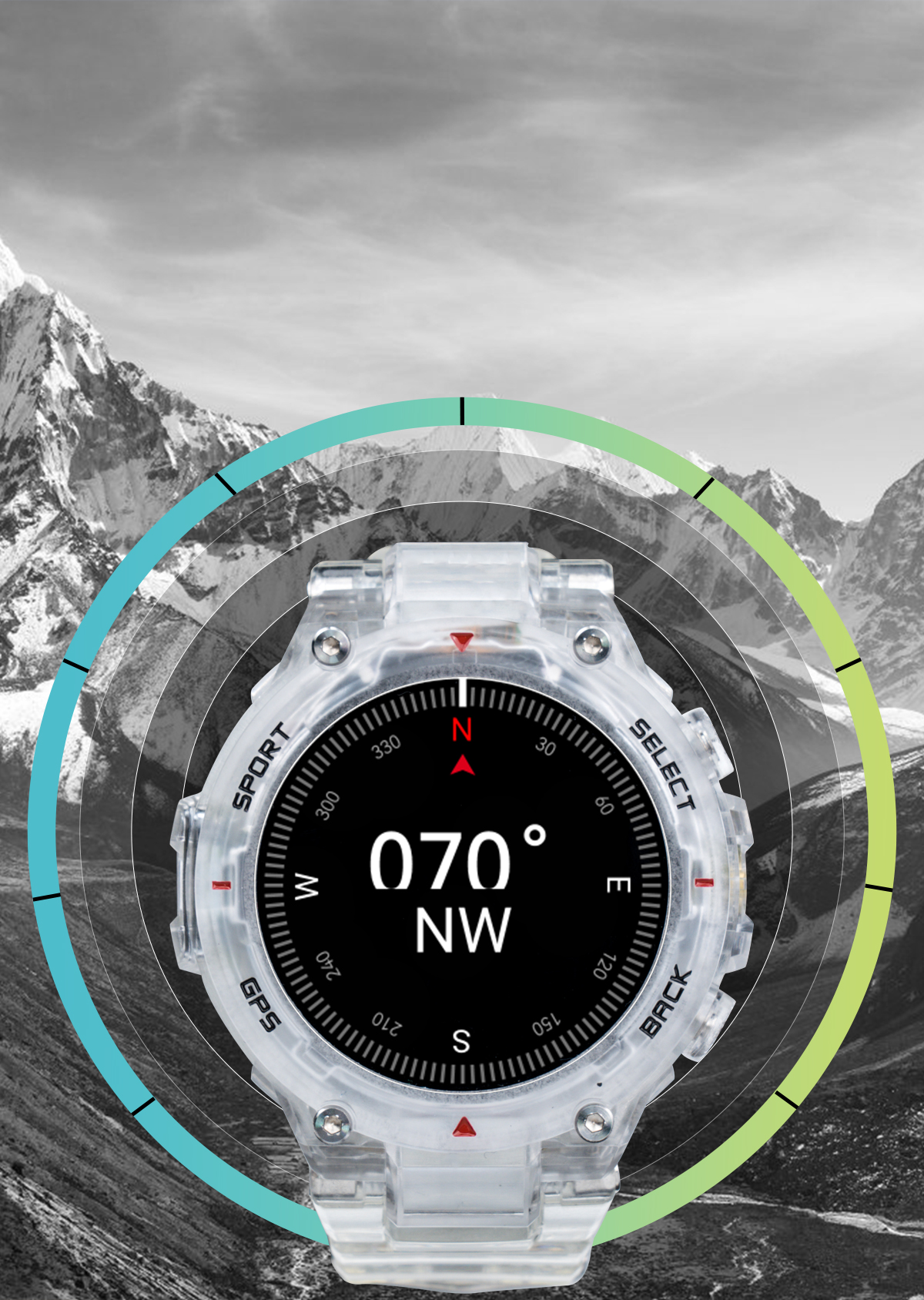 Compass
When you are walking on an isolated place, an accurate compass is as essentially importantas a pair of tough boots

SPORTS
All exercise data will be synchronized to the cloud afterwards. Users can view the data through the Wearpro app.On the page of fitness courses in the Wearpro app, users can choose a course to do exercise, test physical fitness, view exercise records and a goal ring, and more.
Physical training
The watch has 159 sports modes, including Brisk walking, outdoor running, indoor running, outdoor cycling, indoor cycling, jump rope, hiking, outdoor swimming, pool swimming. No matter what sport you like, there are physical training programs that are suitable for you.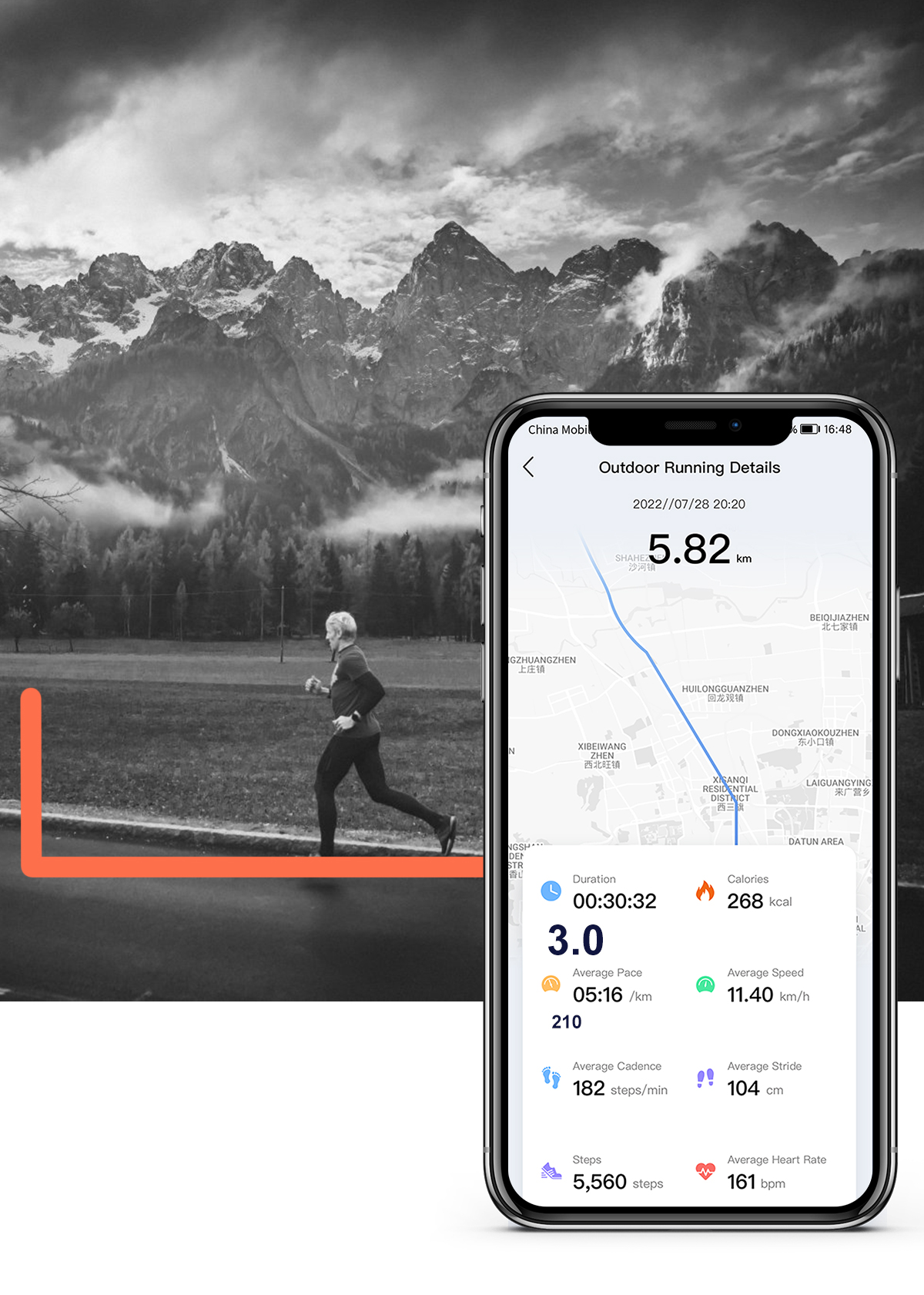 The GPS tracking
witnesses every journey that you have been in.
When you activate the running feature in the app, the watch will record your GPS movement trajectory, accurately tracking your every step, distance, and calories burned. Once finished, the data will be pushed to the watch and stored for your viewing.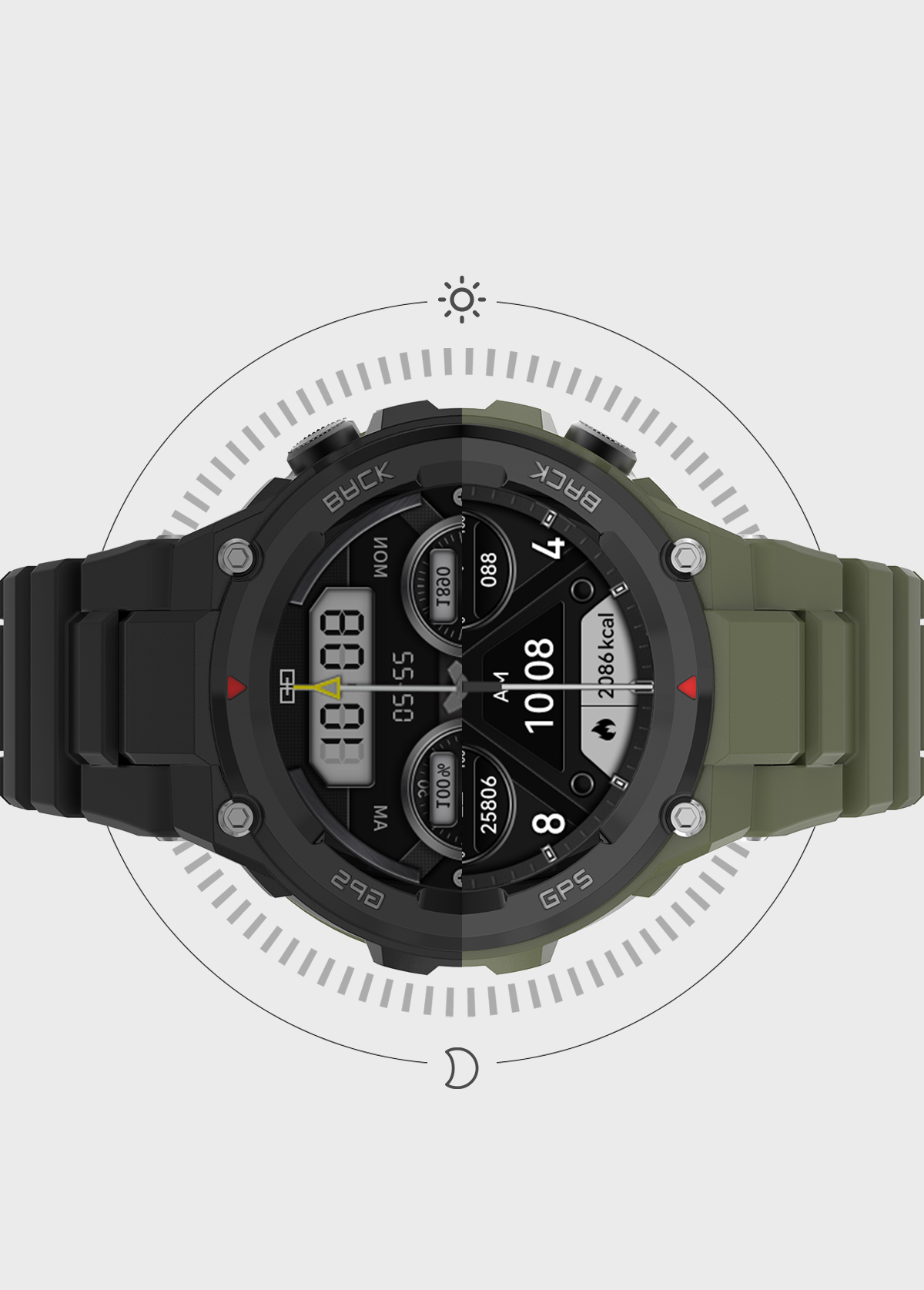 Longer battery life
With a dual-chipset structure and an advanced power-saving algorithm, the watch has achieved a balance between power consumption and performance. The watch can last for one to two weeks under typical use.
Two weeks under typical use
[1]The typical use refers to the situation where heart rate monitoring is continuously enabled, and sports modes are used for only 90 minutes per week. The actual battery life depends on how users utilize the watch. [2]The watch mode can last up to 30 days.

Optical sensors on wrist
Equipped with multiple advanced monitoring sensors, the watch is capable of monitoring your heart rate, blood oxygen, blood pressure and so on.
A red dot on the screen to remind you of incoming new messages
When connected to the Wearpro app, the watch can provide you with notifications from various social apps, including SNS, WeChat, Dingding, and more.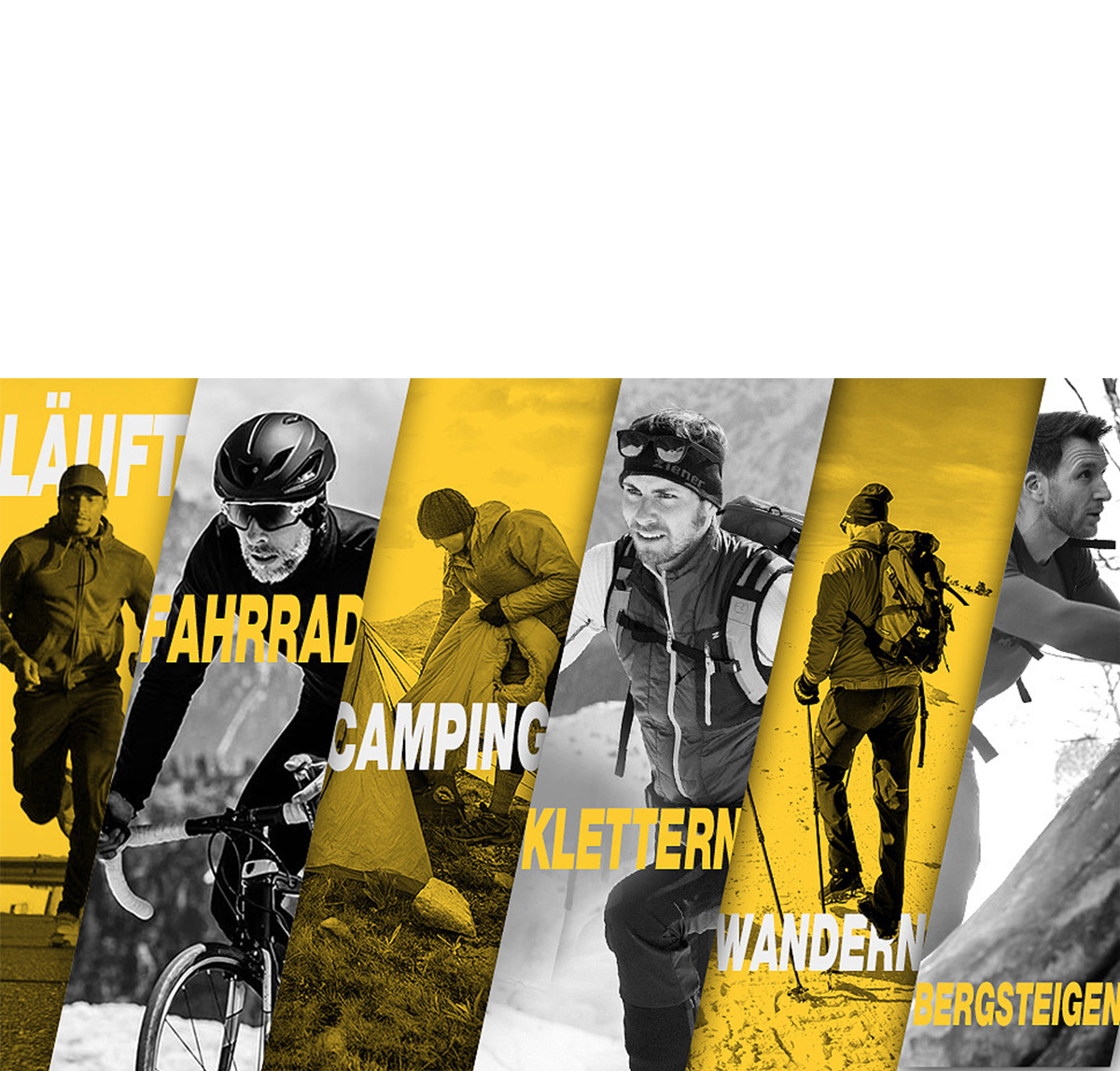 No fear of intense outdoor sports
DT5 Sport will record your training data accurately regardless of what kind of intense sports you choose.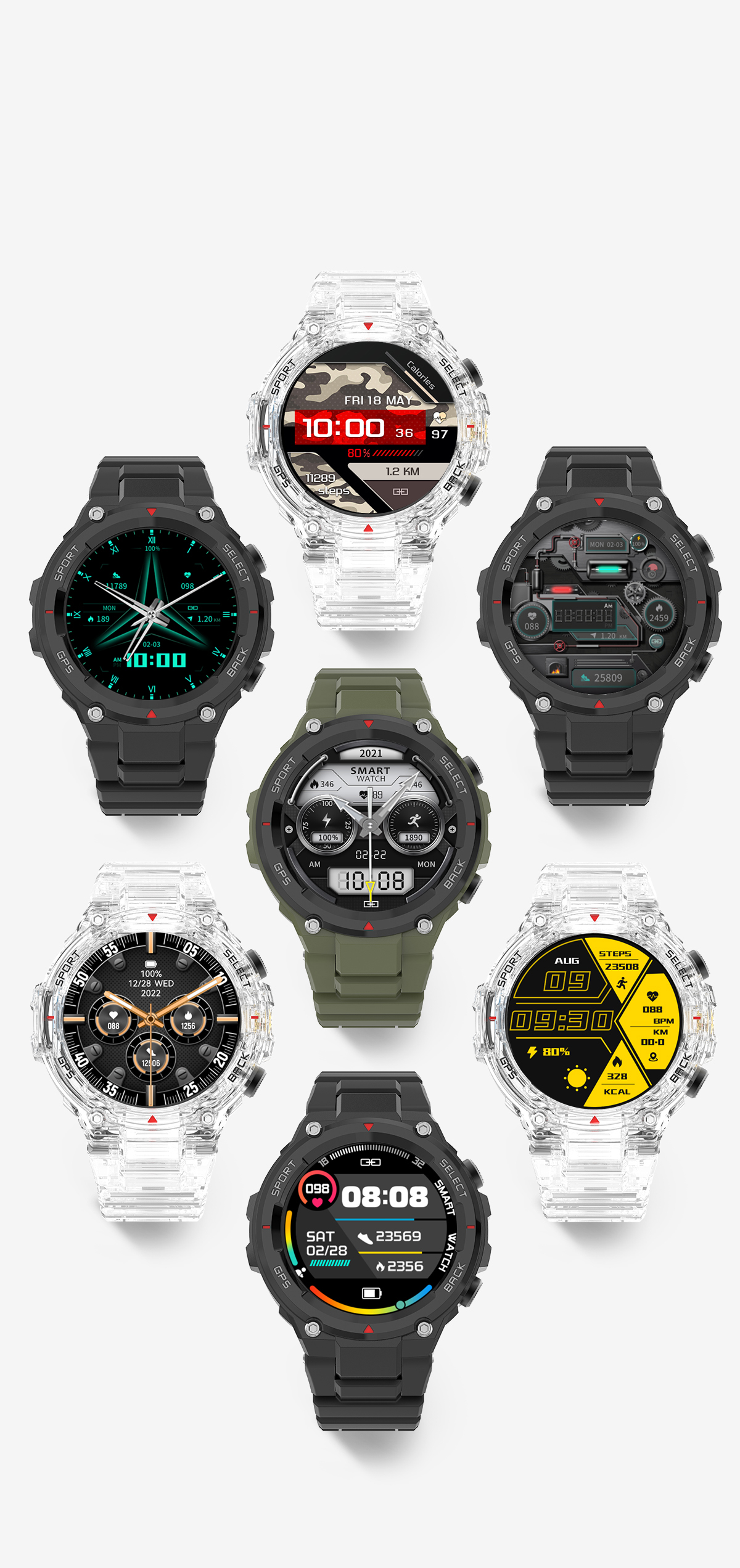 200+ Outstanding dials
A massive collection of dials in different themes. Dynamic and customizable watch faces to perfectly match your style and personality. More dials are waiting for your exploration!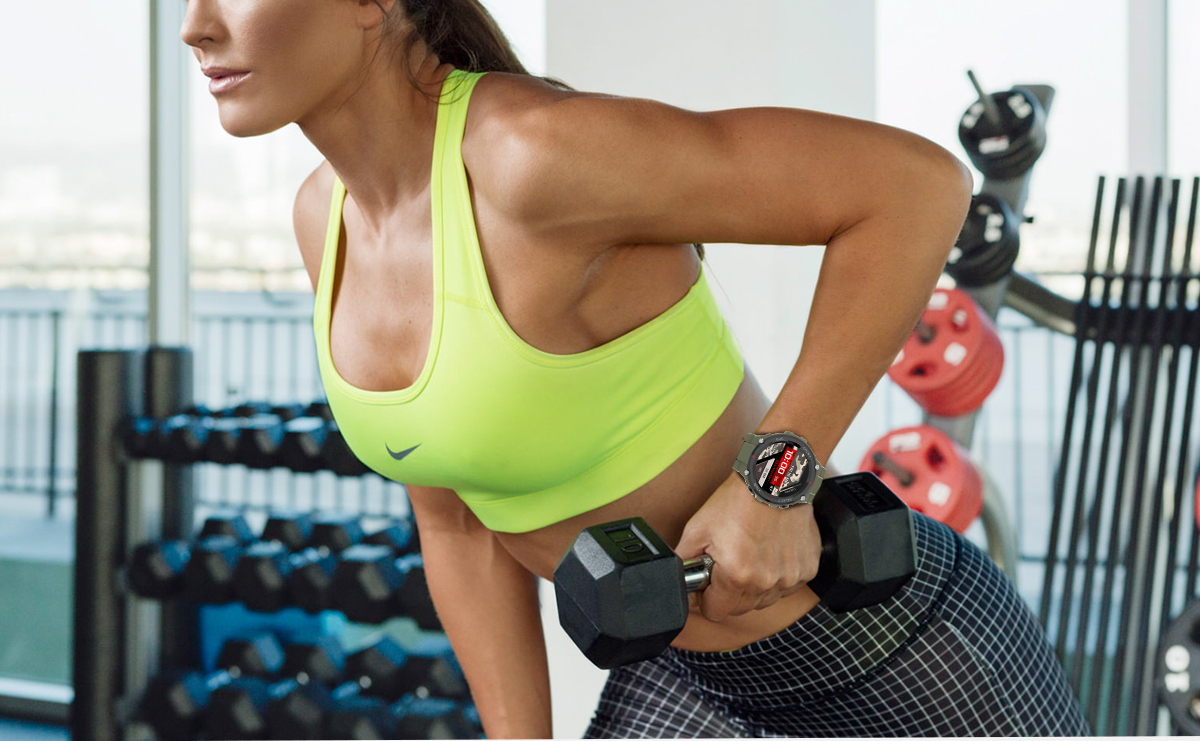 Easy to clean
The watch is comfortable to wear, easy to clean, and won't become sticky when users sweat.