FutureFit Ultra2-Bluetooth Calling SmartWatch (12 Month Warranty)
-Display:  1.85-inches TFT LCD colour display
-Resolution 240 x 280 pixels
-Thickness 9.3mm
-Durability IP68 dust/water resistance
-Connectivity Bluetooth 5.2
-Compatibility Android 4.4 + or iOS 8.0+
-Battery 300 mAh polymer lithium battery
-Battery life 25 days standby, Use time up to7 days
-Sensors Optical heart rate sensor, blood oxygen sensor, Pedometer
PRICE OF THIS PRODUCT IS ONLY FOR ONLINE ORDER. SHOP PURCHASE PRICE WILL BE MINIMUM 5% HIGHER.
Inside Dhaka Delivery Charge: 60 TK (24-48Hours)

Outside Dhaka Delivery Charge: 120 TK

[100-200 TK Required For Order Confirmation]

FutureFit Ultra2-Bluetooth Calling SmartWatch
Features and specifications:
HiFuture FutureFit Ultra 2 is a Bluetooth Calling smartwatch with a modern design, large display, built-in sports apps and many more new and amazing specs. It is the newest and most unique addition to the popular Instinct family purpose-built smartwatches and with its specs it has set a new standard of smartwatch functionality.
The watch is compatible with any smartphone with an OS higher than Android 4.4 or iOS 8.0 using the Glory Fit app. It is for those who appreciate the latest technology in smartwatch. Let's get to know more about its health features and other specifications.
Design and display
HiFuture FutureFit Ultra2 features a square shaped 1.85-inches screen with TFT LCD digital and colour display and a resolution of 240 x 280 pixels. This display will offer you over a 100 personalized cloud watch faces that are bright and vivid even in strong sunlight. It has an Aerospace-grade aluminum case and its strap is made up of Silicon so, you won't have skin irritability issue. No need to worry about dust and water damage as it is IP68 graded Water, swash, sweat proof and dust resistant at the same time. The watch has three colour options viz. black, pink and blue so that you can choose the colour of your choice.
Battery and connectivity
HiFuture FutureFit Ultra 2 is a watch with amazing battery functionality. It has a in-built polymer lithium battery with the capacity of 300mAh. With this capacity, on one full charge it can run smoothly for 7 days even when you actively use its features like Bluetooth calling, smart notifications and all the health tracking features. And it has 25 days' standby battery life, which means it will not shut down for 25 days if you don't use the watch that actively.
Coming to its connectivity, HiFuture FutureFit Ultra 2 uses Bluetooth 5.2 to connect to your phone using the companion app Glory Fit that is available in both google play store and app store. The watch is compatible with any smart phone with OS Android 4.4 or later and iOS 8.0 or later. It has inbuilt microphone, speaker and sensors viz. optical heart rate sensor, blood oxygen sensor, Pedometer.
Health functions
Using the 24 sports mode and sensors, HiFuture FutureFit Ultra 2 will monitor your health pretty well. Through the watch you can track 24-hour heart beat rate, blood oxygen level, blood pressure, sleep cycle, foot-steps, calories that you burn etc. This watch, all in all will help you build health habits over time. Similarly, the 24 different sports mode includes skipping, mountaineering, spinning, yoga, gymnastics, swimming etc. But, HiFuture FutureFit Ultra 2 doesn't feature a period tracker for female.
Display:  1.85-inches TFT LCD colour display
Resolution 240 x 280 pixels
Thickness 9.3mm
Durability IP68 dust/water resistance
Connectivity Bluetooth 5.2
Compatibility Android 4.4 + or iOS 8.0+
Battery 300 mAh polymer lithium battery
Battery life 25 days standby, Use time up to7 days
Sensors Optical heart rate sensor, blood oxygen sensor, Pedometer
Watch Case and strap Aerospace-grade aluminum case, Silicon strap
Companion Application Glory Fit (available in Google play store and app store)
Workout Modes 24 sports modes
Color Options Black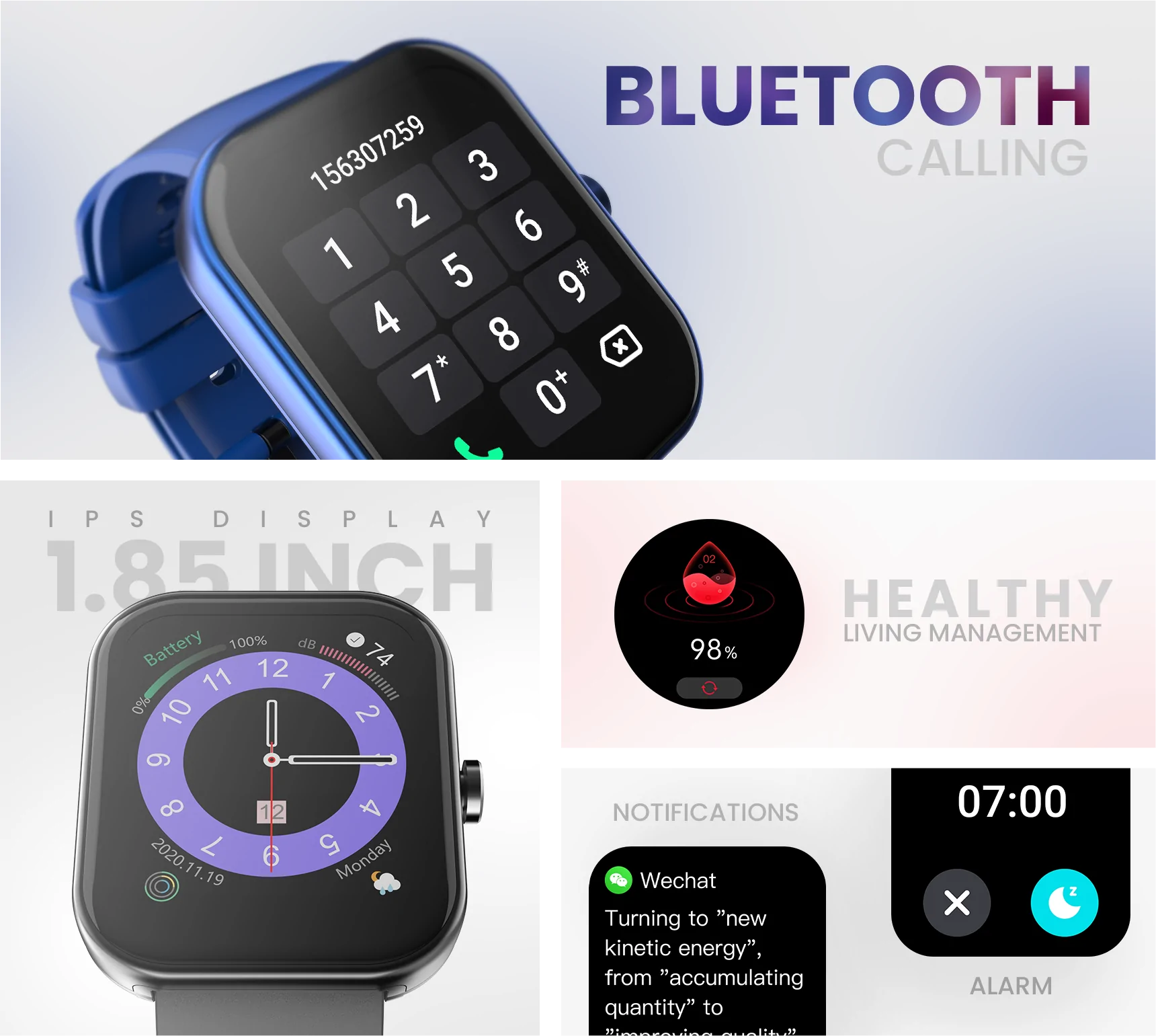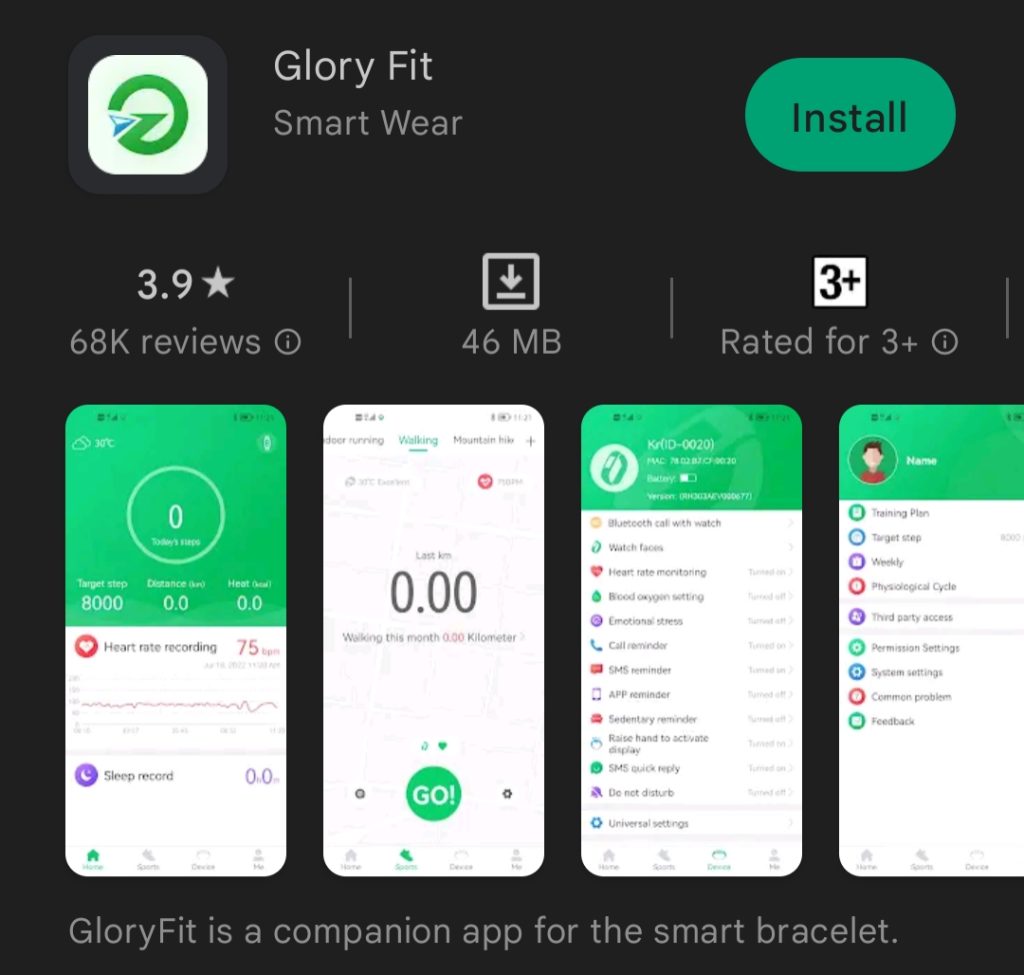 ► We will call you for order final confirmation (11am-7pm), Pick up the phone kindly, in case we did not call you please inbox at our Facebook Page.
𝗗𝗲𝗹𝗶𝘃𝗲𝗿𝘆 𝗧𝗶𝗺𝗲: 24-48 hours inside Dhaka by E-Courier, For Outside Dhaka it takes 24-72 hours+
For Home Delivery it Takes 2-5days
(Any Delivery time depends on courier services, delivery time might delay if there is any issue)
Note: Outside Dhaka city Corporation all under outside dhaka like Savar, Tongi etc places & COD charge is applicable for outside dhaka home delivery. ( As per Courier company policies)
►To get this product at a special price from our shop, Order first, we'll call & confirm your order, then you can pick it up from the shop.
► Cash On Delivery Available Inside Dhaka, Pay the bill after receiving your Products, and after placing an order you can call or contact us on Facebook chat for pre-payment also. Order Confirmation Money required.
► Full Pre / Partial payment required for Offer/Sale or any Products & Outside Dhaka Courier, We'll call you for further process & payment
►Order Confirmation time may delay due to stock reasons, at offer campaign time, any type of of product may stock Out any monent and we reserve the right to cancel orders.
► After receiving the parcel, Before opening the box of the product, must make an unboxing video from the complete packaging condition for any type of service & warranty ⚠️
► Must charge your product with 5W/10W Max or 5V:1A Power adapter (Recommended)
► If you find any manufacturing problem issue after receiving, we'll replace it instantly, must inform us within 24 hours after receiving the product for service 💜💜 Note: Dont make any single tiny scratch, product needs to be 100% Fresh.
► Must keep the small sticker on the device and product box, you must keep it as it is, if the sticker is removed or scratched, you will not receive any service, you can remove the sticker later if you want, but for long term warranty dealer Products, keep the box, every accessories and stickers as it is.
► For any Help Please inbox to our Official FB Page.